2006

BBC News
BBC News: The Wollemi Pine, a plant from Jurassic times which survived in a single isolated Australian grove, is set for an amazing comeback - September 2003. Read More...
Times of London
Times of London : Jurassic era relics found in remote Australian forest - December 1994. Read More...
Wollemi Pine at Chelsea Flower Show
Kernock Park Plants are delighted to announce that Sheen Botanical Labels will be exhibiting the only authorised specimen of the recently discovered Wollemi Pine on its stand (no 11 in the Main Avenue) at the Chelsea Flower Show.

The specimen which Sheen Botanical Labels will have on its stand is 1.8 metres high and has been lent to them by Kernock Park Plants. It will be accompanied by some other closely related family members including Araucaria's araucana (Monkey Puzzle or Pehuén), angustifolia (Paraná Pine), bidwillii (Bunya-bunya), columnaris (Cook Pine), cunninghamii (Moreton Bay or Hoop Pine) and heterophylla (Norfolk Island Pine) and an Agathis australis (Kauri).

Sheen Botanical Labels will also be displaying an example of the individual commemorative labels which purchasers of a Wollemi Pine can purchase, together with its range of other bespoke plant and tree labelling. The stand will also include a display to celebrate the 80th birthday this year of HM The Queen.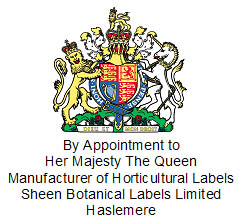 Royal Coat of Arms
Kernock Park Plants
Kernock Park Plants in Cornwall are the sole licensed grower of the Wollemi Pine in the UK and can be contacted on 01579 350561 or visit www.WollemiPine.co.uk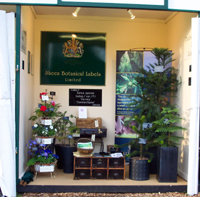 We Are Family
Thousands of visitors to Chelsea were able to get a good look at the Wollemi Pine with other members of the Araucariaceae family at Chelsea.

Christopher & Carmen Ashton-Jones proprietors of Sheen Botanicals Labels were very pleased with the response to the Wollemi Pine on their stand in the main avenue.

Christopher said "numerous visitors have visited us and said how nice it was to see the tree up close, as they had only ever seen it behind bars".

The Queen also visited the Sheen Botanical Labels stand as part of her tour of Chelsea and Christopher reported that she was well briefed on the Wollemi Pine.

The stand received a commendation from the RHS for its display of trees from the Araucariaceae Family including Brazilian, Cook, Norfolk Island, Hoop and Wollemi Pine, along with the Bunya-Bunya, Monkey Puzzle, and Kauri.

About Sheen Botanical Labels

In May 2002, Christopher and Carmen Ashton-Jones acquired the twelve year-old business of Sheen Developments and renamed it Sheen Botanical Labels. At the same time, they moved the business from its base in East Sheen, near Kew, to premises they had found in Haslemere, Surrey, very close to where they live.

The business supplies bespoke engraved labelling, mainly for botanical and horticultural purposes, its "Sheen" plant label stems and the Kew-developed tree fixings to a wide range of clients. These include Royal palaces, stately homes, botanical collections, public and private gardens and arboreta, landscape gardeners, commercial, industrial and residential estates, universities, colleges and schools, zoos, golf courses and even an open-air theatre in Cornwall. We are also now being asked to provide elegant labelling at a number of art and sculpture exhibitions.

Although both loving gardens and gardening, the business is a new career for Christopher, who had spent thirty years in the City as a public relations consultant and Carmen, who was formerly a school teaching assistant.

"The great thing about our business is that all our clients, be they professional or amateur gardeners, have a great passion for the gardens they are developing. In our little way, we hope that our labelling endorses and reflects the quality of the planting", says Christopher.

"We have been granted the Royal Warrant from HM The Queen as 'Manufacturer of Horticultural Labels', which we regard as a huge honour." Christopher was President, for 2005, of the Windsor Royal Warrant Holders Association.

"The business has grown strongly over the past years and we now have over six hundred clients, including many new clients from abroad. In the UK, there has been an interesting new demand for tree labelling at schools and for nature trails. We have also been asked to engrave labels in languages as varied as Swahili, Hawaiian, French and Welsh!"

This is the fourth consecutive year that the company has exhibited at the Chelsea Flower Show.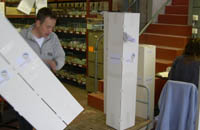 The First Step on the road to Recovery for the Wollemi pine
The first Wollemi Pine trees were despatched to customers in the UK on
16 May 2006.

These are part of just a few limited edition trees that have arrived from Australia to be sent to enthusiasts in the UK.

They will be amongst the first trees delivered to the public outside of Australia. The only other trees in public hands were purchased during the Sotherby's auction in Sydney last October (2005) where all proceeds were donated to conservation efforts.

This is just the first step in one of the most amazing conservation stories of modern times. The release of the Wollemi Pine is an innovative case study for the world in how to protect and ensure the long term survival of a threatened species through public participation.

Growing the Wollemi Pine in gardens and parks throughout the world is an important step to help conserve this unique and endangered species and it is one way that everyone who wishes to care for a Wollemi Pine can participate in the global conservation effort. Royalties from the sales of the pines will be invested in the conservation of the pines in the wild as well as other rare and threatened plant species.

Bruce Harnett MD of Kernock Park Plants said "This is a unique opportunity for us to be able to link horticulture with conservation. Everyone here at our nursery is very enthusiastic about the future prospects for this dinosaur." Kernock Park Plants will also be making a donation to RBG Kew for every tree sold in 2006.

Trees can now be seen at RBG Kew; The Eden Project, Cornwall; Westonbirt Arboretum, Gloucestershire; Trentham Gardens, Stoke; RHS Garden Harlow Carr, North Yorkshire and Batsford Arboretum Gloucestershire. For more information on these see the news section on www.WollemiPine.co.uk.

John and Olive Noble, David's parents, emigrated from England to Australia when he was two years old. David Noble said "It is an honour to be invited to plant trees here in some of the most renowned gardens in the world, particularly as I was born in the UK" The trip was also important for David's wife as it gave her chance to visit Westonbirt School in Gloucstershire which she had attended for 2 years while studying for her 'A' Levels.

David's mother Olive who also accompanied David on this trip is no stranger to ceremonial planting as she was asked to plant a tree at the Tomah Botanic Garden, the closest garden to the site of the discovery of this amazing plant and the beginning of the modern day story of this extraordinary find.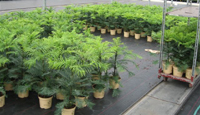 The Newest Oldest Trees are Delivered
The first 3 litre Wollemi Pines were despatched to all corners of the UK and Ireland last week. The trees have grown extremely well in the warm summer this year and looked stunning with a second flush of apple green growth when they arrived at there new homes.

As one happy customer e-mailed us to say:

"The Wollemi Pine arrived safely and I am absolutely over the moon. Because of the robust packaging, not one leaf was out of place. Thanks again and I am so proud of it."

This sentiment has been echoed by many of the customers who have seen the tree maybe for the first time when they opened the box.

We suggest that the Wollemi Pines that we are delivering now are kept inside or in a sheltered frost free part of the garden so that they can acclimatise, and you can enjoy watching them produce there distinctive 'polar caps' which will protect the growing tips. They will then be ready to plant out next spring in time to establish before next winter.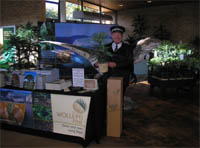 Guard of Honour
During October 2006 RBG Kew, Wakehurst Place and Westonbirt Arboretum have been holding exclusive retail launches for the Wollemi Pine.

This is the first time that people have been able to choose their tree and take it home with them.

The picture shows how precious and unique this tree really is, it briefly had its own guard of honour from Kew's constabulary during the weekend launch at Kew.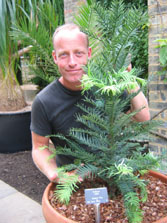 Wollemi Pines arrive at the Cambridge University Botanic Garden
The Cambridge University Botanic Garden's Wollemi Pines have been potted into large terracotta planters to flank the entrance to the restored Temperate House.

The Temperate House is currently being re-landscaped to showcase the biodiversity-rich but gravely-threatened floras of Australia and South Africa.



(Pictured Right: Rob Brett, Glasshouse supervisor with the Wollemi Pine)




Dr Tim Upson, Superintendent of the Cambridge University Botanic Garden said, The Wollemi is a rare and unusual addition to our collection.

There's a good chance it will survive outdoors in Cambridge and we hope to plant an additional Wollemi this autumn, close to our other 'living fossil', the Dawn Redwood.

We were the first to plant out a Dawn Redwood in Great Britain after it was rediscovered in remote China in 1941, and we are proud to be again helping repopulate these living fossils by trialling the cultivation prospects of the Wollemi Pine in East Anglia.

Cultivating the Wollemi Pine here and in gardens and parks everywhere is the best form of insurance against irrevocable loss in the wild.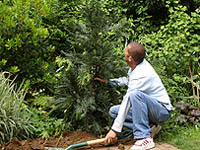 Blue Mountain Tree planted in Blue Peter Garden
The Blue Peter Garden at Television Centre is now home to one of the oldest and rarest trees in the world!

Chris Collins the Blue Peter gardener who trained at RBG Kew planted a Wollemi Pine to help save it from extinction.

The 5 year old Wollemi Pine donated by Kernock Park Plants which stands about 1.8 metres tall was planted during the programme on Wednesday 28th June 2006.

Richard Harnett, the Proprietor of Kernock said "We are very keen that youngsters become involved in such an outstanding conservation effort and we felt that by offering a tree to be planted in the Blue Peter Garden it would highlight how, through public participation, we hope to ensure the long term survival of a threatened species.

The Trees connection with Dinosaurs and the Jurassic age, along with its credentials as an endangered species makes it perfect from an educational point of view".

Further details of the planting can be seen on the Blue Peter Website